A Review of Bloom – An Email Opt-in Builder
Bloom is a brand new email opt-in form builder from the pros at Elegant Themes, the same guys who brought Divi to the WordPress market. When I first heard about it, I was so excited. As someone who used and recently stopped using OptinMonster, Bloom came at an excellent time. It was just released the other day and I jumped on board right away. After installing it and getting it running on this site, I wanted to put together this review to share my experience and thoughts on Bloom.
Before getting into the Bloom plugin review, if you are a blogger, you likely have your own email list (if you don't, you should) with a form on your website that collects the email address of your readers when they wish to receive your emails. Building an email list is a terrific way to promote your products/services and is one of the best things you can do to raise the overall value of your website. Bloom is a paid plugin, included with the Developer ($89 per year) and Lifetime ($249) memberships from Elegant Themes.
Bloom Plugin Features
The Bloom email opt-in plugin for WordPress has some really awesome features. Here's a rundown!
Clean Dashboard Interface
As soon as you install the Bloom plugin and dive into the settings, you'll notice its clean, user-friendly interface with slick transitions. I personally like the interface a lot and I think the guys at Elegant Themes have done a good job making everything flow smoothly.
The actual plugin settings are kept to a minimum. The admin area includes pages for creating opt-in forms, adding new email accounts (i.e. MailChimp, Aweber), viewing statistics and importing/exporting data. Once you add your email account, you can switch over and begin creating a new opt-in form.
Creating Opt-in Forms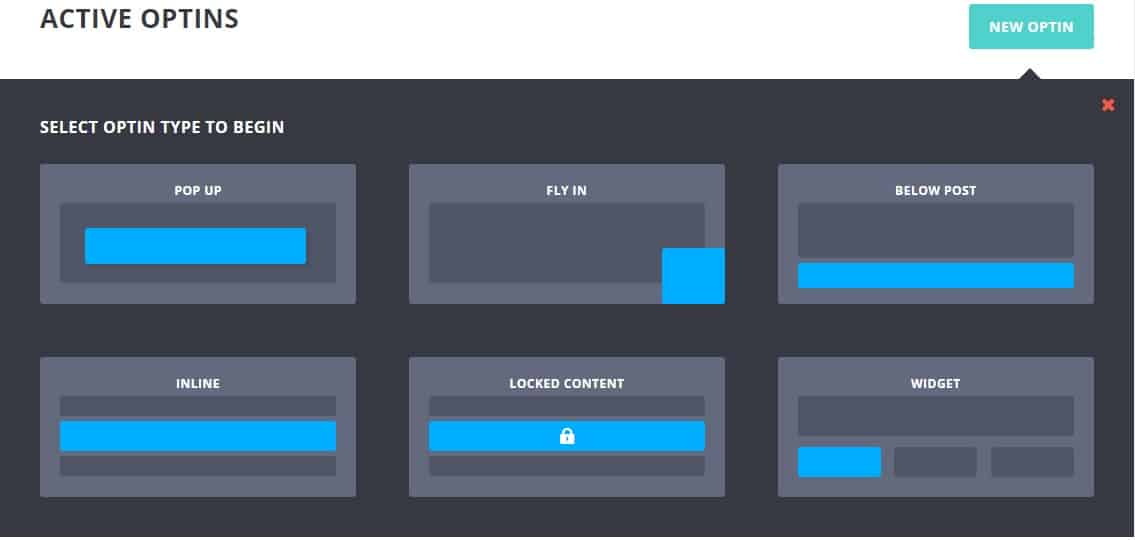 Creating a new opt-in form is a really cool experience. Once you click "New Optin", a panel slides down for you to choose from different opt-in types. These types include:
Popup – A simple lightbox that overlays your website and presents the user with an email opt-in form. The form automatically displays and can be set to show based on different rules, such as after a period of time or when the user reaches the bottom of a post.
Fly-in – A minimal opt-in form that "flys in" to the corner of a user's screen.
Below Post – Self explanitory.
Inline – A really awesome option to include an opt-in form directly within your post content via shortcode.
Locked Content – This is one of the coolest features of Bloom. It allows you to require users to opt into your email list to unlock content, such as a video, download link, etc.
Widget – Generate a widget for your opt-in form and display it in any widget area (i.e. sidebar, footer, etc.) supported by your theme.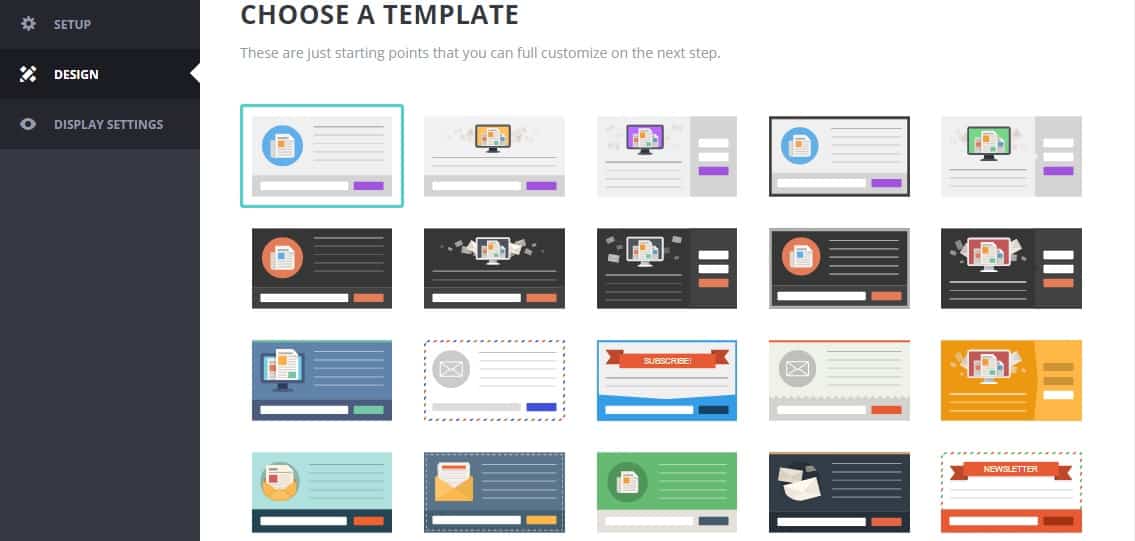 After choosing your opt-in type, email provider and list, you get to the fun part: designing your form! Select from one of the dozens of pre-made templates (115 to be exact) Bloom has available and customize it with your own message, images, image orientations, borders, colors, and almost any style feature you can think of, including custom CSS. I am very impressed with the available styling options in Bloom.
Finally, after customizing the design, you select the display settings if applicable to your opt-in type, such as pop-ups. The display settings give you granular control over where and when your opt-in shows itself to your readers.
Provider Support

Here is a full list of providers currently supported in Bloom:
Aweber
MailChimp
Campaign Monitor
Constant Contact
Mad Mimi
Infusionsoft
iContact
GetResponse
Mailpoet
Feedblitz
Sendinblue
Ontraport
Additionally, if your provider is not yet supported, Bloom supports adding form embed code.
Statistics Alpha/Beta Testing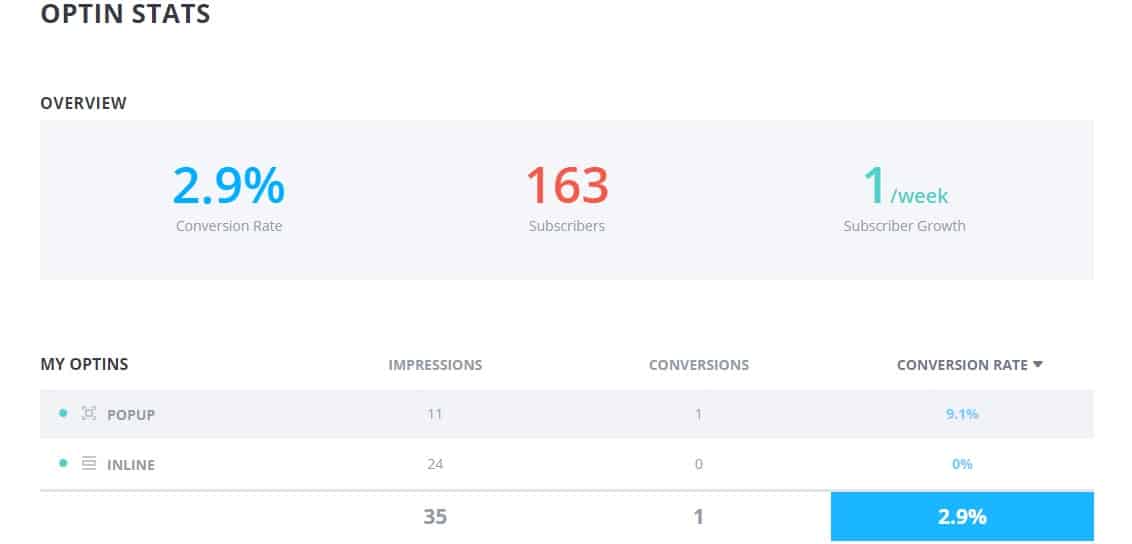 If you care about data and analytics, Bloom delivers! The stats section shows some very useful data to analyze the performance of your opt-ons, including number of impressions, conversions, growth rate, and even what posts/pages are converting.
Import and Export Opt-ins and Data
Import, export and back up your Bloom data and opt-ins. Again, the interface is simple and it works like a charm.
My Satisfaction So Far
Bloom has only been available for a few days now. I purchased it on day #2. While I haven't spent hours playing around with it, doing so isn't necessary. The process of creating and displaying opt-ins is incredibly easy and fluid, thanks in large part to its nifty dashboard. I had two opt-ins set up and working perfectly (and converting!) within just a few minutes.
Although Bloom has me very happy as an end-user, it's important to keep in mind that it's still brand new and, therefore, it does have room for improvement. However, I have nothing but confidence that the Elegant Themes crew will continue to improve on and add to the feature list. That said, here are some ideas/areas I feel could be improved on.
Lack of HTML support in opt-in body. I wanted to include an affiliate link to Elegant Themes within either the opt-in body or footer but was unable to because the footer strips out HTML and HTML in the body (at least anchor tags) don't work properly. I understand that removing certain tags is a security measure but basic HTML should be allowed.
Can only preview from within the "Design" panel. For now, you can only preview your form while designing it. I'd like to be able to preview from anywhere in the Bloom interface, especially from the overview page that shows all of my created opt-ins.
No option for single/double opt-in. I found no option for this feature.
Exit intent. This is one feature that I think will likely be added soon but, for now, it's not available.
Blank canvas. One of the coolest features with OptinMonster is that you can use it for more than just opt-ins because it offers a "blank canvas" option to insert any type of content. Seeing this feature in Bloom would be phenomenal!
List of available actions and filters for developers. As a developer, I'd love to have some clean documentation on ways to extend Bloom, such as executing custom actions after a form is submitted. I'm sure there are hooks available but I have not yet gone through the code. However, a list should be provided.
In Summary
After just a short period of time playing with it, I'm very happy with the Bloom opt-in plugin from Elegant Themes. It's a terrific, simple solution for quickly and easily setting up email opt-ins on any WordPress site. When comparing it with other paid plugins out there, it alone makes the $89 cost of the Elegant Themes membership well worth it (this level includes their plugins). For the experience, features and value, I give Bloom an easy 4/5 stars, which will quickly increase to 5 when some of those areas for improvement are addressed. I look forward to using it and seeing how Elegant Themes improves on it in the near future. I predict this plugin will become very popular down the road. Good job out of Elegant Themes!
UPDATE (March 20, 2015): I submitted a support ticket to inquire about developer hooks for extending Bloom (one of my points about improvement from above) and was informed that there has been no communication regarding this. I submitted it as a suggestion but, as of now, there's no telling if and when some form of a developer API might become available. I really hope it's sooner rather than later because, like I mentioned it my suggestion to Elegant Themes, Bloom is virtually impossible to extend without hacking the core plugin. This makes it difficult to work with if you're a developer and need to customize it beyond the given functionality. I'll update again whenever I hear back on this matter.
Summary
Reviewer
Review Date
Reviewed Item
Bloom Email Opt-in Builder Plugin from Elegant Themes
Author Rating





Product Name
Bloom Email Opt-in Builder Plugin