WordPress Hosting – The Ultimate Guide
Nowadays, the web host that you choose is as important as any other variable when it comes to building a quality site. After all, a domain that's constantly experiencing unexpected downtime and exhibiting sluggish response times won't get very far. As the most popular Content Management System on the web, WordPress is often the go-to choice for webmasters launching a new site. Consequently, knowing how to find the best hosting for WordPress installations can come in quite handy. Unfortunately, finding the best web hosting for a dynamic WordPress site isn't always the easiest thing to do.
In the following comprehensive WordPress hosting guide, you will learn just about everything you will need to know to make wise purchasing decisions. First off, we'll go through a few of the important reasons why good WordPress hosting is so important. Then we'll cover the main qualities that you should look for in any potential host. We'll also run through some of the most common mistakes that webmasters make when choosing a host as well as the different types of hosting available. Finally, you'll get a rundown of a couple of high-quality WordPress hosts for your own site.
Why is a Good WordPress Host So Important?
While there are many reasons why it's important to look for WordPress-specific hosting, a few stick out more than others. For starters, a host that's tuned to provide excellent support for WordPress users is simply easier to develop and manage sites on. Good hosts offer automatic one-click installation so that inexperienced webmasters don't have to download and configure the software themselves. They also keep their installed versions of PHP and MySQL up to date so that webmasters don't have to worry about software compatibility issues that may crop up later.
Another key reason why good WordPress hosting is a must is security. Regardless of how careful you may be when managing a hosting account and its domains, there are always security issues to address that are beyond your control. From firewalls to DDoS attack mitigation, a web host always acts as the first line of defense against hacking. It doesn't matter if you're on a shared plan or have a dedicated server. While WordPress is an inherently secure platform that's constantly being vetted for new vulnerabilities, it can only do so much. The host that you choose will play a big role in protecting your site.
Last but not least, a host that's focused on catering to WordPress users delivers superior performance in a variety of ways. Different CMS programs place different demands on the server hardware and software that support them. Quality WordPress hosting plans are fine-tuned to make sites as quick as possible right out of the gate and respond to rapid swings in traffic volume. As you're probably aware, speed and reliability are becoming vital components of good SEO. Making it easy for visitors to find your site in the SERPs and delivering a great user experience will improve the odds of eventual success online.
What Are the Key Features of a Good WordPress Host?
Easily one of the most important features of any solid WordPress host is flexibility. Even if you've opted for a shared or VPS hosting plan, you should be able to tweak a great many aspects of a WordPress installation to suit your needs. Whether that means opting for Nginx over Apache for your HTTP server or installing uncommon modules for custom functionality, having options counts for a lot. A good WordPress host should give you the power to configure your hosting plan as you see fit within reason.
Yet another key attribute of a WordPress host worth patronizing is rock-solid reliability. You need assurances of nearly 100% up-time that you can take to the bank before signing on with any given hosting provider. Good hosts will give you plenty of notice ahead of time if they need to power down your site for a short period of time for maintenance or updates. Topnotch WordPress hosts also take their security seriously and are constantly keeping an eye on suspicious traffic to protect your data. Only hosts with a blemish-free reliability record over a long time frame should be considered.
The final piece of the puzzle is performance. A good WordPress web host is on the ball as far as server hardware, software and network infrastructure are concerned. Web hosts worth spending your hard-earned money on are constantly investing in new servers equipped with high-speed storage devices, beefy CPUs and zippy RAM. They also allocate plenty of bandwidth to each client's hosting plan to handle sudden traffic spikes. Many top WordPress hosts rely on sophisticated, next-generation cloud technology to provide the necessary computing muscle when needed. One should look carefully at a host's server firepower before committing to a contract.
Most Common Mistakes in Choosing a WordPress Hosting Company
One of the biggest goofs that newbie webmasters make when picking a WordPress host is cutting corners in the cost department. If you want quality hosting, you're going to have to pay for it. Anyone that needs a web presence but can't afford a few bucks a month for their own domain and hosting plan should just set up an account using the free WordPress.com service. Fortunately, it's more than possible to get great hosting for a WordPress site for less than $10 a month if you look around.
Another serious faux pas that quite a few amateur webmasters often commit is a failure to read the fine print when signing up for a plan. Most hosts will promise the world for a seemingly attractive price. They'll tout features such as unlimited email addresses, unlimited domains and improbably unlimited bandwidth. The reality is that few really deliver on those rosy projections. A real host tells you what their limits are at any given price point. Falling for pie-in-the-sky assurances will come back to haunt you later on. Find out what a host can actually deliver before you sign on the dotted line.
By far the biggest mistake that new webmasters make is failing to fully investigate the track record of a potential web host. Online review sites exist for a reason, after all. Looking at the recent experiences of others is the best way to determine whether or not you want to sign on with a given web host. Perusing customer reviews accrued over a broad timeline will tell you if a prospective host has gotten better or worse. Paying attention to user ratings regarding customer service is incredibly important. Sooner or later, you'll need to contact customer support and you'll want them to be responsive.
WordPress Hosting Options – Shared, Managed, VPS & Dedicated
Shared Hosting
Easily the most common form of hosting around, shared hosting is a low-cost way for many customers to field low-traffic sites on the same hardware. Essentially what happens is that a host will use a single server to store data and respond to web requests for dozens of unique domains. Shared hosting allows anyone to run a basic WordPress website that can handle a decent amount of traffic for just a few dollars per month.
For many, shared hosting offers a prudent balance between power and price. Administrators can host one or more domains on a single plan and be reasonably assured that their sites will be fairly snappy and reliable. Affordability and ease of use are the primary strengths of shared hosting. The major downsides are a lack of flexibility and limited performance. Many shared hosting plans don't allow you to install custom software or modify server behavior.
Managed WordPress Hosting
In this table, we compared the most reputed Managed WordPress Hosts available at this time; here's our comparison of Flywheel, Kinsta, LiquidWeb, Pagely, Pressable, SiteGround, WordPress.com and WP Engine.
Managed WordPress Hosting Comparison
| wdt_ID | Host | Standard Plan Price (monthly) | Price with Coupon | Standard Plan Price (monthly paid annually) | Price with Coupon | # of Installs (0 = unlimited) | Visits / Bandwidth | Disk Space (0 = unlimited) | SSL | CDN | SSD | Money Back Guarantee | Free Migration (Done for you) | Multisite | Automatic Backups | Staging | SSH | Git | Platform | Positive Review | Negative Review |
| --- | --- | --- | --- | --- | --- | --- | --- | --- | --- | --- | --- | --- | --- | --- | --- | --- | --- | --- | --- | --- | --- |
| | Host | Standard Plan Price (monthly) | Price with Coupon | Standard Plan Price (monthly paid annually) | Price with Coupon | # of Installs (0 = unlimited) | Visits / Bandwidth | Disk Space (0 = unlimited) | SSL | CDN | SSD | Money Back Guarantee | Free Migration (Done for you) | Multisite | Automatic Backups | Staging | SSH | Git | Platform | Positive Review | Negative Review |
Simply put, managed hosting is a type of plan where the web host handles various aspects of software and hardware administration for the client. For example, a managed web host may automatically take care of backups for you. They'll also repair hardware when it breaks down if you're renting a full server and troubleshoot various performance issues that may crop up. For the most part, only VPS and dedicated hosting plans have a "managed" option. With shared hosting, the "managed" part of the equation is more or less implied.
Obviously, the main draw of managed hosting is support. Webmasters don't need to waste their time addressing mundane tasks and can focus on developing their actual sites rather than tackling routine upkeep. It's a great option for amateur webmasters that aren't exactly IT wizards. The primary downside is cost. It goes without saying that the peace of mind that managed hosting affords comes at a price. For a complex site with heavy traffic, managed hosting can deliver excellent ROI depending on the markup over self-managed VPS or dedicated hosting.
VPS Hosting
A VPS or Virtual Private Server is a step up from shared hosting in terms of power and flexibility. In a nutshell, a VPS is a sort of virtualized server that gives a website or web administrator an allotted chunk of a physical server's processing power, RAM and storage. Unlike a shared hosting plan, a VPS typically gives a site its own IP address rather than forcing it to share one with other sites. A VPS is a popular option for mid-tier sites with appreciable traffic.
The great thing about VPS plans is that they drastically bump up hosting firepower for only a few bucks more per month in most cases. If a shared hosting plan won't cut it but you don't need to step up to dedicated hosting, a VPS is the way to go. They give webmasters more options when it comes to tweaking software and can be scaled up quickly as the situation warrants. The only real downside of a VPS is that a lot of hosts over-promise and under-deliver on their advertised plans.
Dedicated Hosting
Generally speaking, dedicated hosting refers to a scenario where a client has full command of an entire physical server housed at a datacenter. In some cases, a hosting client is merely renting the machine from the host in question. In others, they provide the server themselves and simply use the host's network infrastructure to field a site. Dedicated hosting can come in either managed or un-managed flavors. A managed, dedicated hosting plan provides maintenance and upkeep services at an additional cost to site administrators.
For a serious website with loads of traffic, a dedicated server is often the best option in terms of pricing and ROI. Furthermore, a dedicated hosting plan allows webmasters to more closely monitor and control various aspects of security and optimization. A managed dedicated hosting plan can also make administration less stressful. The biggest con is price, which can be considerable depending on the web host in question. However, that downside is often unavoidable for busy domains that need loads of spare computing power available on the fly.
SiteGround WordPress Hosting – Our Recommendation for Personal Blogs and Small or Medium-Sized Websites
All about SiteGround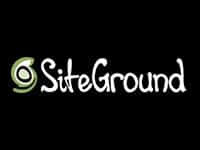 Known as much for their expertise in WordPress hosting as the quality of their customer service, SiteGround is a great option for WordPress hosting plans that combines the best of shared hosting and VPS hosting. They boast over 400 employees and support at least 1,600,000 websites. For over 14 years, they've made offering unparallel customer service a central pillar of their entire business model. If powerful and customer-friendly WordPress hosting at a reasonable price is what you want, they always deliver.
SiteGround Features & Functionality
When you sign on with SiteGround, you get a whole lot of hosting options for a great price. Whether you want a WordPress hosting plan, a shared plan or a dedicated server, you'll get a ton of nifty features that'll help you to launch a WordPress site quickly and keep it going for months or years to come. For starters, their servers are optimized specifically for WordPress installations. In addition, you'll get free WordPress migration for existing domains. More specifically, their three WordPress hosting plans can accommadate from 10,000 to 100,000 monthly visits and provide from 10GB to 30GB of disk space.
SiteGround WordPress Hosting Pros
Price: One of the best things about SiteGround is the fact that you can get the StartUp hosting package for a few dollars per month.
Performance: Thanks to their topnotch hardware and network infrastructure, SiteGround can deliver amazing performance on a budget. Their highly redundant server setups ensure that data loss and slowdowns rarely if ever occur.
Customer Service: The folks at SiteGround go out of their way to make customers feel special. Their dedicated support staff is available around the clock to troubleshoot any issue.
SiteGround WordPress Hosting Cons
Relative Lack of Flexibility: No host can be all things to all people. For all of its strengths, SiteGround has to limit some options.
Slightly Higher Prices: It's possible to find cheaper hosts around the Web. However, you get what you pay for and SiteGround plans are only a few dollars more per month than those of lesser hosts.
Pricing of SiteGround WordPress Hosting Plans
With SiteGround, you can expect a WordPress hosting plan that starts at as little as $3.95 per month if you go for the StartUp plan. The GrowBig plan will get a higher monthly visits limit, more disk space and additional premium features such as free WordPress transfer and free backups – all that for $5.95 per month. Finally, the GoGeek plan gets you all that, + more monthly visits and disk space + geeky features like stating and Git, all for $11.95 per month. Any way you look at it, SiteGround is more than a match for its main competitors in the middle-of-the-road hosting arena.
Why We Recommend SiteGround
There's no such thing as a perfect web host. That having been said, SiteGround offers just about the best value proposition on the market for small or medium-sized blogs and commercial websites with moderate traffic. You can go with StartUp plan to start and quickly migrate to the GrowBig or GoBig plans if need be within hours thanks to their dedicated staff of IT experts waiting to assist you. The company loves its customers, boasts attractive plans and delivers the goods consistently. With few exceptions, SiteGround always makes their customers happy at the end of the day.
What Are SiteGround Customers Saying
The best way to assess any web host is to see what their current customers are saying about how they do business. Take a look around the web and you'll find ratings that are well above 4 stars on a 5-star scale on nearly every review site you can think of. In particular, current customers cite their commitment to customer service as a big plus in addition to their features and pricing. Outside of a few flukes, SiteGround has proven that they're a company that goes the extra mile to do right by their clientele. Read our own personal review of Siteground.
Receive a
60%
discount on your SiteGround WordPress hosting order when you use the SiteGround coupon link below:
Visit SiteGround
WP Engine WordPress Hosting – Our Recommendation for High Traffic Blogs and Online Businesses
All about WP Engine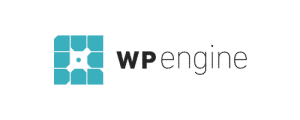 Since its debut in early 2010, WP Engine has quickly become the go-to hosting provider for tens of thousands of WordPress sites. Notable clients include the likes of AMD and Uber, which just goes to show you how much major enterprise customers trust the platform. The primary specialty of WP Engine is their superlative managed WordPress hosting. They take the headache out of choosing a plan and guide new customers through the selection process based on expected traffic and storage demands.
WP Engine Features & Functionality
Like most WordPress-centric web hosts, WP Engine relies on a backbone of PHP-enabled Linux servers optimized for screaming performance. Clients themselves never have to worry about server upkeep or firewall monitoring as they develop their sites. WP Engine performs daily malware scans and full site backups to ensure that your data is never lost. Their proprietary Evercache technology makes default WordPress installations fly. Hosting plans from WP Engine are also CDN-ready right from the get-go, which makes scaling up a breeze. Lastly, WP Engine boasts round-the-clock technical support via phone or email.
WP Engine WordPress Hosting Pros
Ease of Use: Without a doubt, WP Engine's biggest strength is its hassle-free administration. Clients only need to worry about developing their domains and little else.
Terrific Performance: WP Engine truly delivers on their promise of speedy response times thanks to a variety of back-end performance innovations. SSD-based servers ensure snappy performance under even the most trying conditions.
Excellent Security: If your site is hacked for any reason, the folks at WP Engine will help you to recover quickly and restore any data that's been lost.
Genesis StudioPress Themes Included: WP Engine recently acquired StudioPress, makers of Genesis, which we use on this very site, and their clients now have access to all Genesis Themes for free as part of their hosting plan.
WP Engine WordPress Hosting Cons
Higher Prices: Pound for pound, WP Engine plans will cost a little bit more than those offered by similar rivals.
Unfamiliar Back-End Management: Most novice webmasters are used to dealing with cPanel when administering their domains. WP Engine's custom dashboard takes a little getting used to for new customers.
Lackluster Documentation: Compared to more hands-off WordPress hosts, WP Engine does not have a huge library of supplemental educational material. Fortunately, there's little chance that you'll need to sift through documentation when fixing a glitch.
Pricing of WP Engine WordPress Hosting Plans
The entry-level Personal plan starts at $28 per month and supports one WordPress domain, 25K visits and unlimited traffic. A Business plan comes with 30GB of storage space as well as support for up to 25 installations and 400K visits per month for $249. That should be more than enough hosting power for a busy corporate website, an e-commerce storefront or an extremely popular blog. Long story short, any of WP Engine's plans represent a terrific value when you consider the fact that they throw so much support into the mix.
Why We Recommend WP Engine
Many webmasters tend to underestimate the amount of time they'll have to spend keeping their site humming along. Between backups and security checks, one can easily spend hours per day on various administrative tasks better left to the professionals. WP Engine all but eliminates those headaches while serving up great hosting that's fast and incredibly reliable. That's why we recommend using WP Engine for high-traffic domains. They're a great bargain if you're going to be spending more than $30 per month on hosting and they have a nearly unimpeachable five-year track record of superior service.
What Are WP Engine Customers Saying?
With few exceptions, WP Engine's many satisfied clients will vouch for their chosen host's trustworthiness. None other than Neil Patel, the co-founder of KISSmetrics, endorses WP Engine as a wise choice for WordPress sites. Many well-known WordPress authorities such as WPBeginner give WP Engine 5 stars in their official reviews. Looking at crowd-sourced customer reviews found around the web, we can see that WP Engine consistently ranks well above average when it comes to consumer satisfaction. While your mileage will no doubt vary, it's pretty clear that WP Engine has earned its sterling reputation.
Receive a
20%
discount on your WP Engine annual Personal, Professional, or Business plans hosting order when you use the WPEngine.com coupon code below:
WP20OFF
Making the Best WordPress Decision for You
Hopefully, you now have a good handle on how to select a great WordPress host for your next project. Things like speed, reliability and overall value should all be considered carefully before pulling the trigger. Both of the fine WordPress hosts mentioned above offer free trials and existing site migration if you find that either is a good fit for your domains. While there are certainly a few other decent WordPress hosts floating around the web, these premium hosting providers have proven themselves over time as the most attractive options.
In most cases, the best host for your site will depend on expected traffic and future growth projects. A mid-level site looking for a reliable
WordPress host that can be quickly scaled up if need be should probably opt for SiteGround. Their entry-level plans are priced to move and quite good. Webmasters who know that they'll need some serious firepower right off the bat should choose WP Engine. They simply make life far easier for admins in charge of large, fairly complex sites. Any way you slice it, you can't really go wrong by patronizing either WordPress-specific web host.
Other WordPress Hosting Articles
SiteGround Review – A more personal review of SiteGround's hosting services.
Kinsta Review – If you have a big website and want an alternative to WP Engine.
Media Temple Review – Why we think you should avoid Media Temple WordPress hosting services.