Kinsta is a popular managed WordPress host that originally focused on high-end customers, but has since relaunched with much more affordable plans starting at just $30 per month.
Unlike many other WordPress hosts, all of Kinsta's plans are cloud-based and powered by Google Cloud Platform. That, combined with a performance-oriented technology stack, leads to impressively quick page load times (I'll show you the data on this in a second).
Beyond its performance-oriented technology, Kinsta also includes a user-friendly custom dashboard that lets you easily manage things like:
Automatic backups
Staging sites
Server-level caching
Helpful data and statistics
In my Kinsta review, I'll first and foremost give you a look at my real performance testing data (because page speed rules all!). Then, I'll take you through the Kinsta dashboard and show you how it helps you manage your site.
Overall, I'm a big fan of Kinsta, especially now that its pricing is accessible to casual WordPress users. Read on to learn why that is!
Kinsta Review: Testing Its Performance And Page Load Times
I always like to start off hosting reviews by looking at the host's performance. Quite simply, none of the helpful dashboard features matter if your site doesn't load fast.
To assess Kinsta's performance, I set up a test site using a complete landing page template from Elementor to ensure my demo site approximated a live install.
By using this same setup for all my hosting tests, I know that most shared WordPress hosts usually load this setup in ~1.5 to ~2 seconds.
Here's how my test site fared with Kinsta, though:
First, I ran my site through Pingdom, where it loaded in just 583 ms:

Then, I put it through GTmetrix, where it loaded in a similarly quick 0.8 seconds:
Both those numbers add up to fast page load times, which is one of Kinsta's unique selling propositions.
What's The Technology Stack Behind Kinsta's Speed?
Here's the technology that powers your site when you host with Kinsta:
PHP 7.X or HHVM
NGINX
LXD containers
MariaDB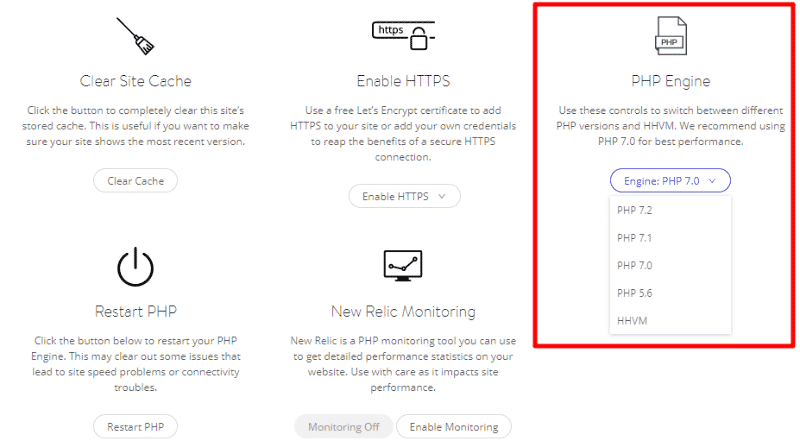 7 Things I Like About The Kinsta Dashboard
Ok – so Kinsta loads fast. That's checkbox #1 for quality hosting. But what about the rest of the Kinsta experience?
Here are some of the things I especially like about Kinsta's backend website management…
1. It's Easy To Spin Up A New Site And Install WordPress
Whether you're a beginner getting started with your first WordPress site or a seasoned WordPress user, you should appreciate how easy it is to launch a new WordPress website with Kinsta.
Here's how it works:
First, you go to the Sites tab and click the big Add Your First Site Now button: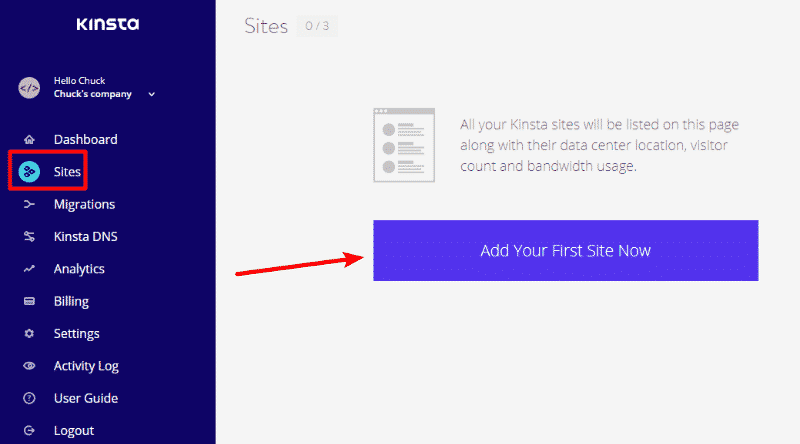 Then, you choose from one of Kinsta's 13+ data centers, give it a name, and select whether to:
Install a fresh WordPress site
Clone an existing WordPress site on your account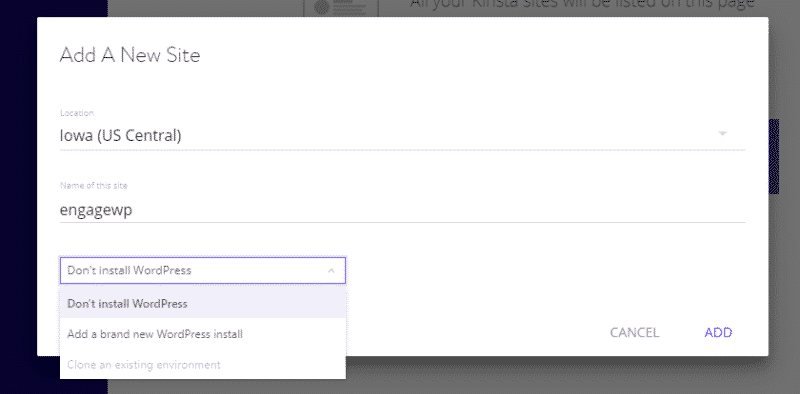 Assuming you want to install a new WordPress site, all you do is enter the details and click Add. You can even pre-install WooCommerce, Yoast SEO, or configure Multisite: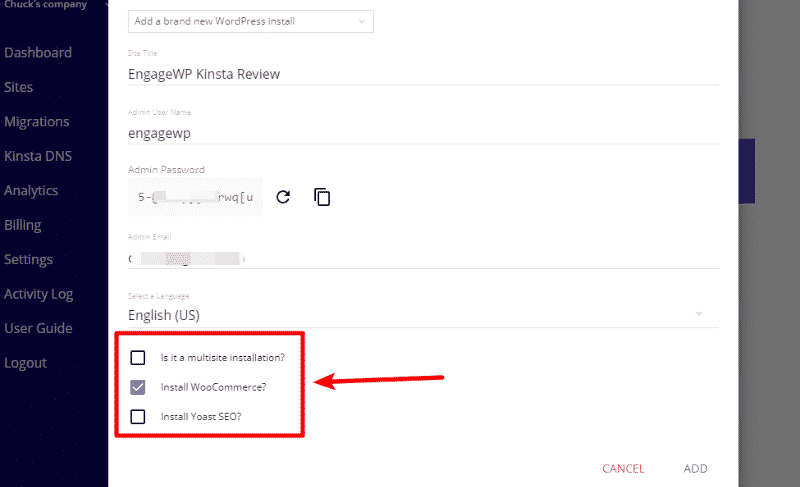 And that's it! You're off and running with WordPress.
2. Staging Sites Couldn't Be Simpler
If you're not familiar, a staging site is basically a duplicate copy of your site that isn't accessible to the public. It lets you test out changes and updates to your site before you apply them to the live version that your visitors see.
Once you confirm there aren't any bugs, you can push the staging version of your site live with just a few clicks.
All of Kinsta's plans come with staging functionality. But what I especially like is how accessible that functionality is.
Whenever you're in your dashboard, all you need to do is click the Change Environment drop-down to instantly move between staging and production environments: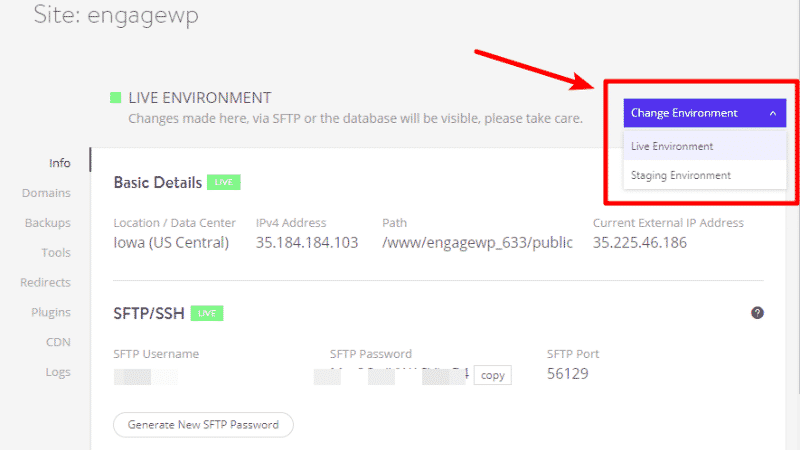 3. Backups Are Automatic And Easy To Manage
Here's how Kinsta handles backups:
Kinsta automatically backs up your site every day
You can manually run a backup at any time
Kinsta automatically backs up your site whenever you push from staging to live
Kinsta also stores the last 14 consecutive backups in your dashboard.
That's pretty smart and convenient and ensures you're never left without a backup at an inopportune time…
You can always access these backups for both your production and staging environments right from your dashboard: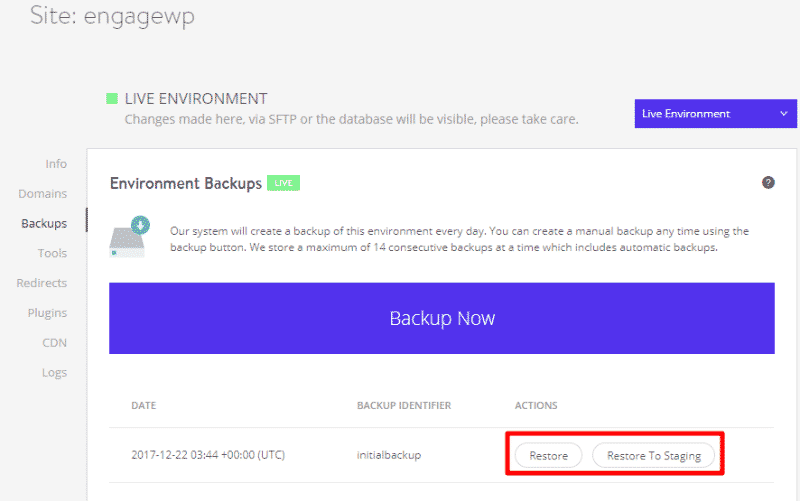 And another nice thing is the option to either:
Restore to your live site
Restore to your staging site
4. Live Chat Support Via Intercom Is Always Available
Kinsta offers 24/7 live chat support via Intercom, which I love.
Here's why Intercom is superior to the live chat solutions that most other hosts use:
It's not a separate window – that means you can navigate around your dashboard without losing access to your chat.
No signing in – you never need to input your details just to talk to a human (this is a small detail but something I hate at some other hosts).
Chat histories – you can always access past chats right from the Intercom widget – they don't disappear like other hosts.
How long does it take to get a response? I've been using Kinsta for a while now and I'd say I usually get a response within 1-2 minutes: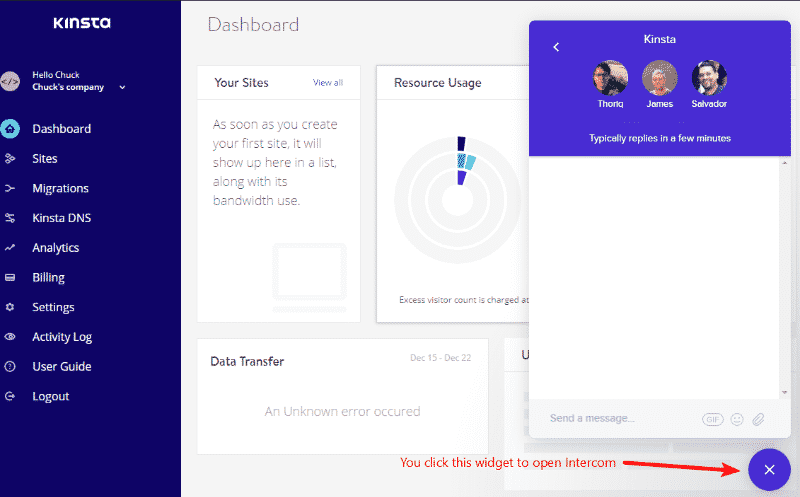 5. Easy Free SSL Via Let's Encrypt
SSL/TLS certificates (the things responsible for HTTPS and that green padlock in your browser address bar) secure your site for both you and your visitors and might even help you rank higher in Google.
To put it lightly, they're something that every website should have.
That's why it's great that Kinsta gives you a free certificate via Let's Encrypt. All you need to do is click a button: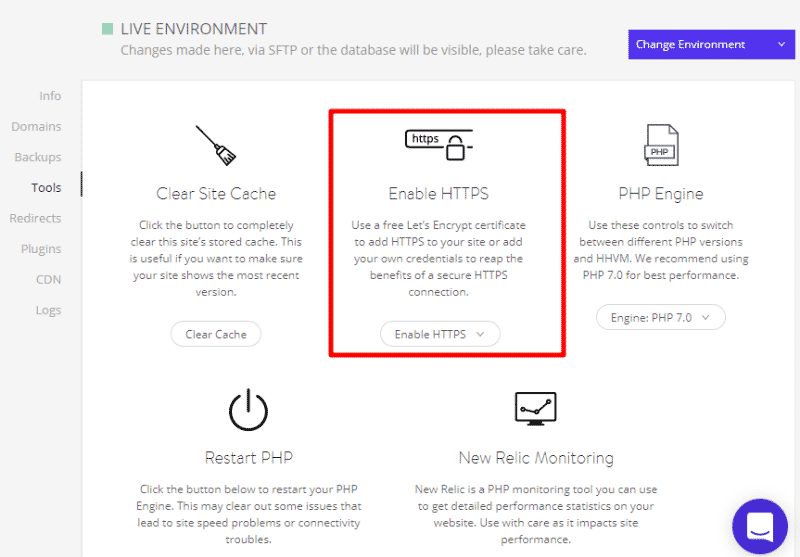 6. Easy KeyCDN Integration And Included Bandwidth
A CDN, short for content delivery network, helps speed up your site by storing your content on lots of global delivery centers around the world. That way, visitors can download your content from the nearest CDN server, rather than your origin server.
Kinsta has partnered with KeyCDN to give you free bandwidth on most Kinsta plans.
Better yet, to enable the CDN all you need to do is click a few buttons in your Kinsta dashboard: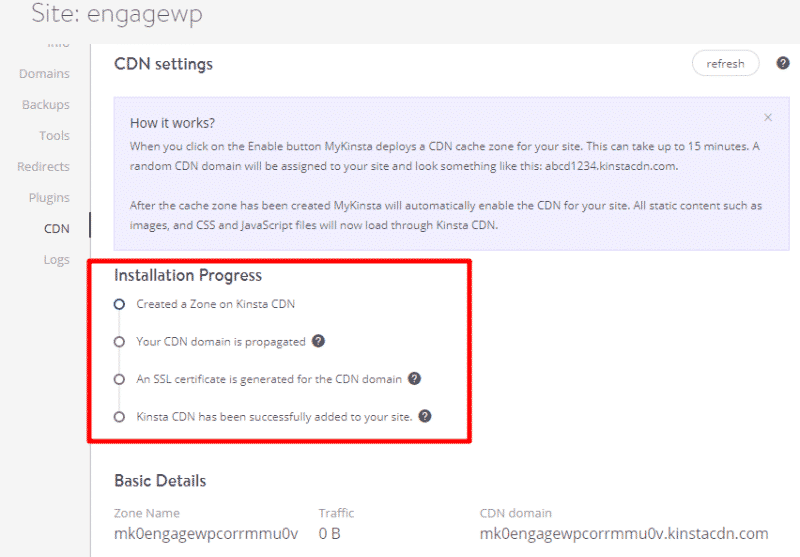 That's much simpler than trying to do things manually!
7. Tons Of Helpful Performance Analytics
Finally, Kinsta's Analytics tab gives you a ton of detailed usage data for your site. I'm not talking about just visitors – you can also dig into things like:
Average PHP + MySQL Response Time
PHP Throughput
Response Stats
Device stats
Lots more
All in all, you have a ton of data to analyze both your site's traffic and performance: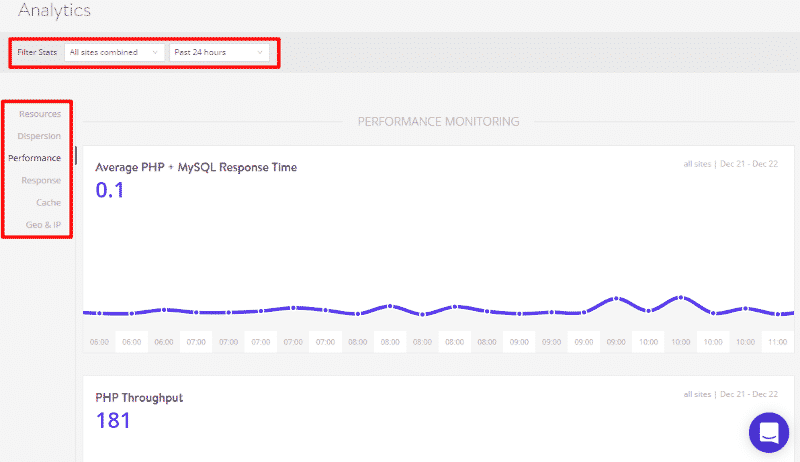 Are There Any Drawbacks To Kinsta Hosting?
Overall, Kinsta is one of the best managed WordPress hosts that I've used. But there was one casualty from when Kinsta moved to its new billing structure:
Kinsta used to charge based on bandwidth, but now they've fallen in line with most of the managed WordPress hosting industry and charge based on visits.
I can't fault them too much because, like I said, that's the industry standard approach.
But I did think the previous method of charging based on actual bandwidth usage was a fairer approach.
Should You Use Kinsta Hosting For Your WordPress Site?
If you're just getting started and launching a site with zero traffic, Kinsta might be overkill at the beginning. In that case, something like SiteGround still offers a quality product and will save you some money (check out our SiteGround review for more info).
On the other hand, if your site is starting to grow in traffic and needs something that can offer better performance, or if you're running a mission-critical website (like a WooCommerce store), then I think Kinsta is a great option.
While I'm personally happy with SiteGround and host many of my more casual sites there, Kinsta hosting just flat out loads faster than SiteGround and most of the other competition I've tested.
Additionally, Kinsta's dashboard is brilliantly designed and easy to use – it's a massive upgrade over cPanel and most other hosts' dashboards.
All in all, if you're in the market for high-quality WordPress hosting and can swing the price, Kinsta is a great option.