You know how Jetpack adds a whole pile of helpful features to your WordPress site in one neat package? Booster for WooCommerce aims to be that… but for your WooCommerce store.
With one single plugin, you can make over 80 different tweaks to your WooCommerce store affecting everything from prices & currencies, buttons, products, checkout & payments, and lots more.
In fact, Booster for WooCommerce is so akin to Jetpack that it was previously known by the moniker "WooJetpack."
In my Booster for WooCommerce review, I'll first tell you a bit more about the different modules that you get with Booster for WooCommerce, then I'll go hands-on with the plugin and show you how everything works.
Booster for WooCommerce Review: What Does It Do?
As I teased in the intro, Booster for WooCommerce includes over 80 different modules. But before I get to what those modules are, I want to address the alarm bell that should be ringing in your head:
"80+ modules? What if I only need 10 – do I have to deal with 70 modules I don't need?"
Thankfully, you can enable modules on an individual basis. When you first install the plugin, it doesn't enable any modules. You have to go in and manually enable the specific modules that you want. This is the best way to do it because it eliminates the issue of bloat.
Alright – now let's get into those 80+ promised modules. Booster for WooCommerce divides them into 8 different categories:
Prices & Currencies – add multiple currencies, convert prices, change formats, and lots more.
Button & Price Labels – change button text by product type, add "call for price" buttons, and lots more.
Products – accept bookings and crowdfunding, change product cost by time, hide products from certain users, and lots, lots more.
Cart & Checkout – customize your cart, add an "empty cart" button, and lots more.
Payment Gateways – add multiple custom gateways, lock currencies to specific gateways, and lots, lots more.
Shipping & Orders – change address formats by country, set a minimum order amount, customize the shipping calculator, and lots more.
PDF Invoicing & Packing Slips – add PDF invoicing functionality.
Emails & Misc. – add custom emails, CSS, and more.
You may have noticed the phrase "and lots more" quite a bit in that list. If you want a complete list of features, I recommend that you check out the plugin's WordPress.org page.
Additionally – it's important to note that not all of these features are available in the free version. Because dividing the features up would take a whole post by itself, I'd rather just direct you to this handy comparison table between the free and Plus versions.
Hands-on With Booster for WooCommerce
Ok, now that you have an idea of what Booster for WooCommerce actually does, I'm going to show you how it actually works in practice on my test site.
When you activate the plugin, you get a brand new Booster tab in your WooCommerce Settings page: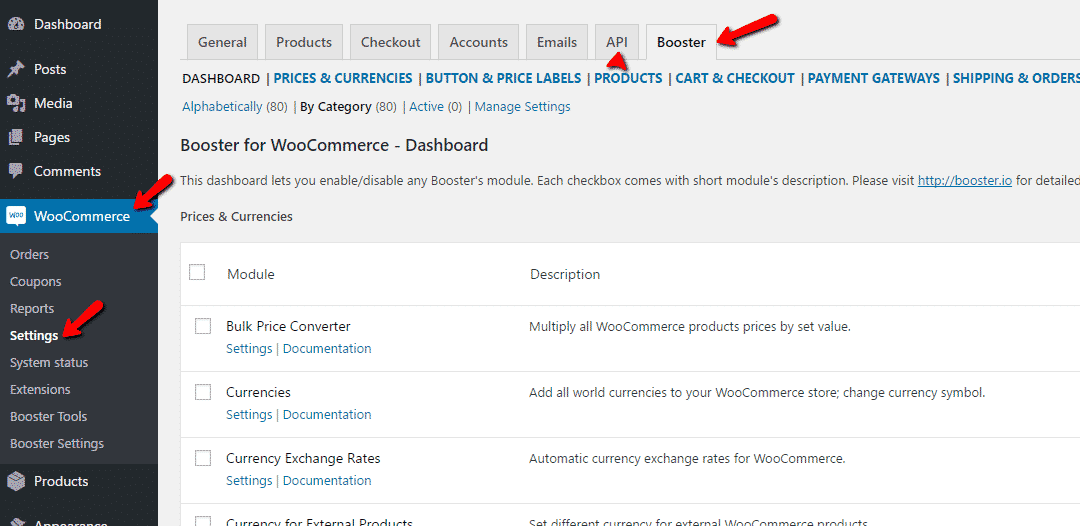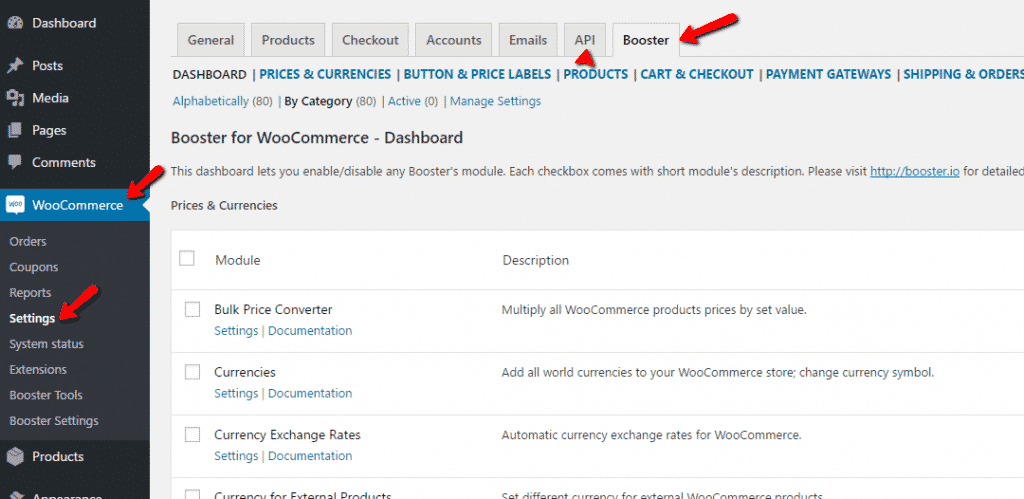 This is the page where you enable or disable individual modules. To enable some modules, you just check the box, scroll down to the bottom, and click Save Changes.
For example, you can see below that I activated the Bulk Price Converter module. This module is helpful if you want to, say, run a site-wide sale: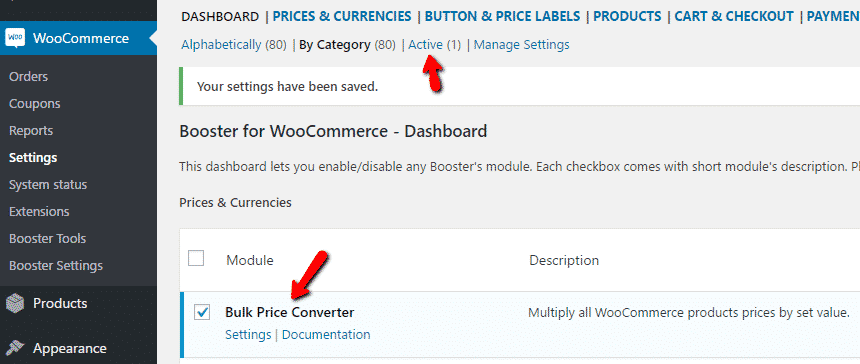 To configure that specific module, you'd just need to click on the Settings link underneath its name.
For this specific module, you need to further click the Bulk Price Converter button to launch the converter: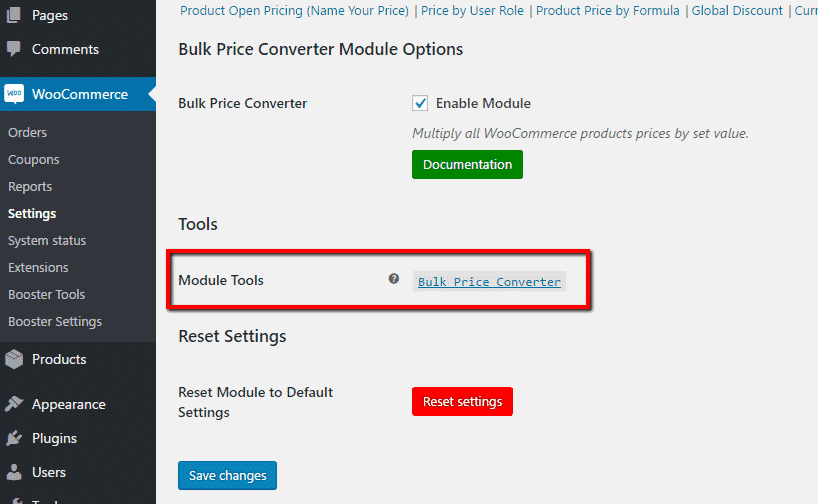 There, you can enter the value to multiply prices by and then click the button to preview the changes: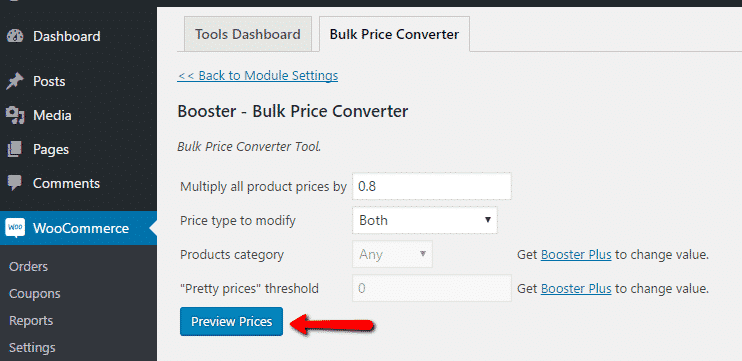 If you're happy with how the changes look, you just need to click Change Prices to make them live: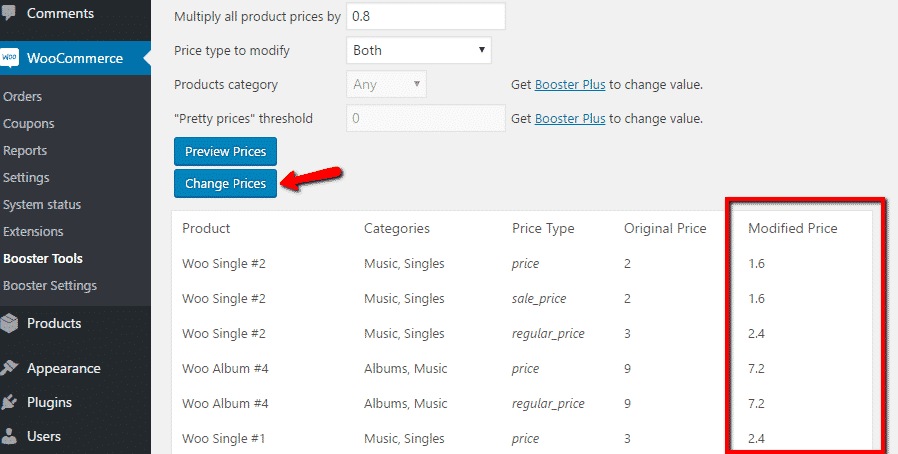 Straightforward enough, right? If you were savvy enough to set up WooCommerce, you should have enough knowledge to use Booster's modules.
Checking Out Some Other Modules
Ok – so that's how the Bulk Price Converter module works. But let's see how a slightly more complicated module functions. This time, I'll enable the Product Availability by Country module.
For this module, there's nothing to configure in the Booster interface.
Instead, it adds a new meta box to each individual product page where you can configure that product's availability: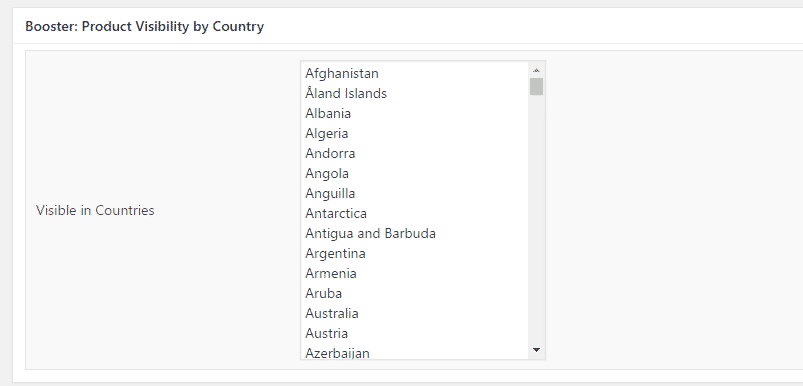 If you don't select any countries, it will be available everywhere. But if you choose one or more countries, it will only be visible to users with IPs from those countries.
Note – I played around with this feature and there is one quirk (which the plugin does mention in its documentation). The quirk is that users can still access the product if they have a direct link – they just won't see it in product listing pages. I'm told that the newest version of the plugin fixes this, though. So by the time you read this review, this issue might no longer exist.
Hands-on With One Final Module
One more quick look before I wrap this review up! This time, let's try the Add to Cart Labels module.
Once enabled, you can either change the button text for whole product types: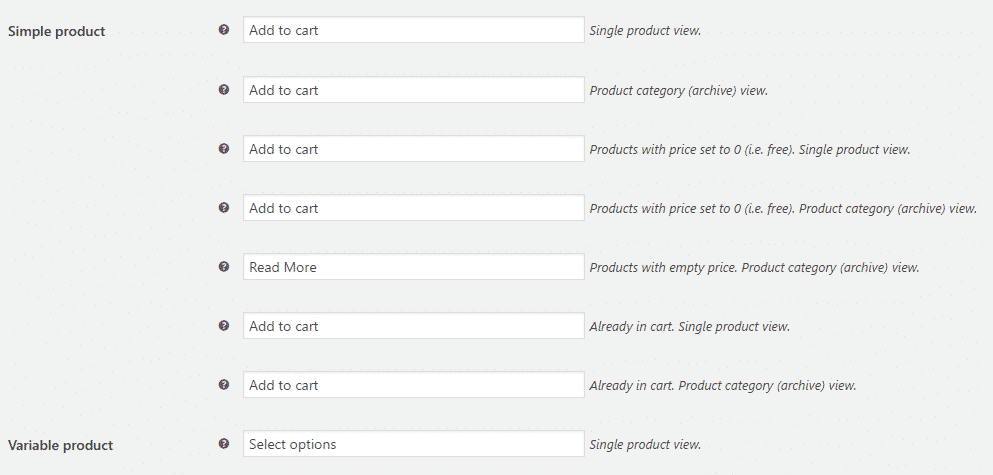 Or you can change the button text for individual products: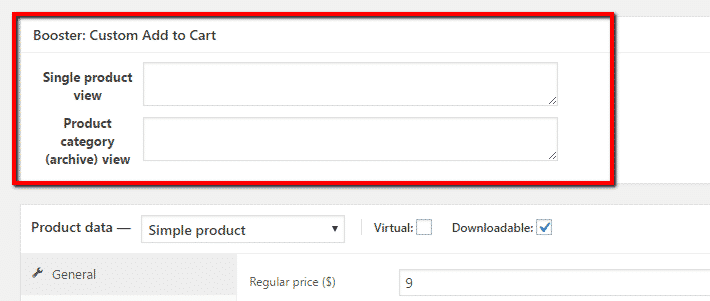 Again – pretty straightforward stuff.
Final Thoughts on Booster for WooCommerce
In addition to the sheer breadth of functionality that Booster for WooCommerce offers, there are three things I really like:
The features actually work. This should go without saying…but it's important to note that everything I tested worked as described. I didn't test every single module. But I did play around with as many as possible and had no issues.
There's no bloat. Because you enable modules on an individual basis, there's no added bloat from modules that you don't want.
The plugin is incredibly well documented. Every single module has its own detailed documentation page, which makes it a breeze to use the plugin. Additionally, this documentation page is easily accessible from your WordPress dashboard, so you don't need to waste time searching for help.
How Much Does Booster for WooCommerce Cost?
As I mentioned, not all of the functionality is enabled in the free version of Booster for WooCommerce listed at WordPress.org. If you want every single feature, you'll need the Booster Plus for WooCommerce plugin, which currently costs $29.99.
Again, you can find a detailed comparison of the differences right here. But honestly, I think ~$30 is worth it just to not have to look at the lengthy comparison table!
All in all, Booster for WooCommerce delivers on its promise of packing a ton of helpful WooCommerce functionality into one single plugin. While you can find standalone plugins to make many of the same tweaks, having everything housed under one interface really does make your life much easier.
Go to Booster for WooCommerce at WordPress.org
Go to Booster for WooCommerce Official Site
LIMITED TIME OFFER: Booster has a special offer for EngageWP readers and is giving a 20% discount on any Booster license type by using the coupon code engagewp20
Coupon expires August 31, 2017.