Trying to choose between WooCommerce vs Shopify for your eCommerce store? According to the numbers, these two are the most popular eCommerce platforms, so it makes sense that your search has boiled down to just two options.
Here's the thing about WooCommerce vs Shopify, though:
Neither platform is best for ALL stores.
That is, some people are better off with WooCommerce, while others are better off with Shopify (that's why they're both popular!).
So if what you're expecting from this post is one single answer for all situations, you're going to end up disappointed.
Instead, what I aim to do is help you choose the best platform for your specific situation.
Sound good? Let's get comparing so that you can start selling!
WooCommerce vs Shopify: A Difference In Philosophy
There are all kinds of smaller features/interface decisions that are different between the two platforms, but I think the most important difference is each platform's core philosophy.
Specifically, self-hosted vs hosted.
WooCommerce is a self-hosted solution based on the open-source WordPress content management system. That means you install WooCommerce (and WordPress) on your own server. Because you have full access to your server, you're free to make unlimited changes to your site. You can tweak everything from the core files to the database.
Shopify, on the other hand, is a hosted solution. That means Shopify hosts your site on its servers. You never need to deal with installing the software. But as a result, you only have the access that Shopify chooses to give you (Shopify is pretty generous – but it's not unlimited like WooCommerce).
What Are The Meaningful Differences Between These Two Approaches?
Using a self-hosted solution like WooCommerce gives you more freedom because you have access to everything (and can, therefore, edit and customize everything). But that freedom comes at a cost – you're also responsible for maintaining everything and keeping your site secure.
Using a hosted solution like Shopify means that you only have access to the areas that Shopify gives you access to. As a result, there are some hard limits you just can't get around. For example, Shopify limits you to 100 variants for each product.
But giving up a little flexibility gets you a much simpler platform. Because Shopify is the one who's responsible for maintaining and securing your site, you never need to worry about those nitty-gritty maintenance issues.
For a lot of store owners, that convenience is worth the cost: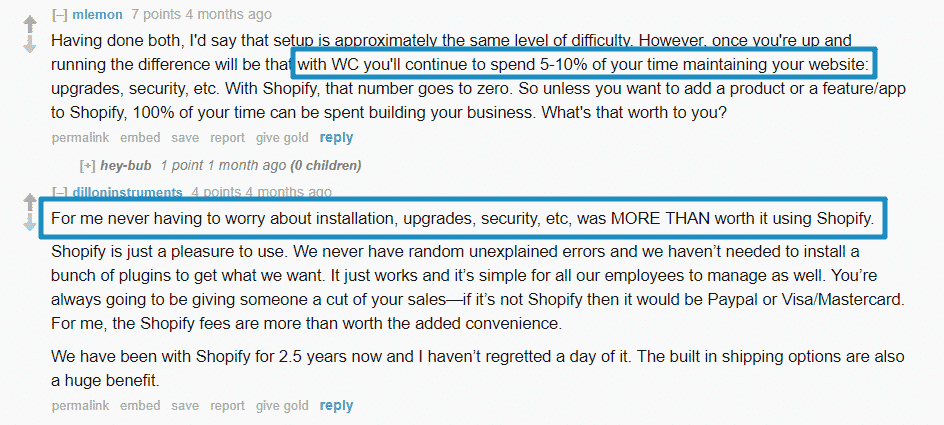 In the end, a simplified summary of the pros and cons is that:
WooCommerce is better for stores that need flexibility and customization. But it's not necessarily great for a beginner because you'll need some technical knowledge to safely maintain your store (or you'll need to pay someone with that knowledge)
Shopify is great for beginners and/or people who are running stores that don't need any of the flexibility/customization that WooCommerce offers. It might cost a little more, but that convenience is often worth it, especially for non-techies.
Now that you understand the basic differences, let's go through a quick rundown of how you actually create a store with each platform.
How You Create An eCommerce Store With WooCommerce
Before you can get started with your WooCommerce store, you'll need to:
Sign up for your own hosting and connect your domain name (Kinsta is a good option for WooCommerce stores)
Install WordPress
Install WooCommerce
Once you have WooCommerce installed, you can follow a simple setup wizard to set up most important aspects of your store: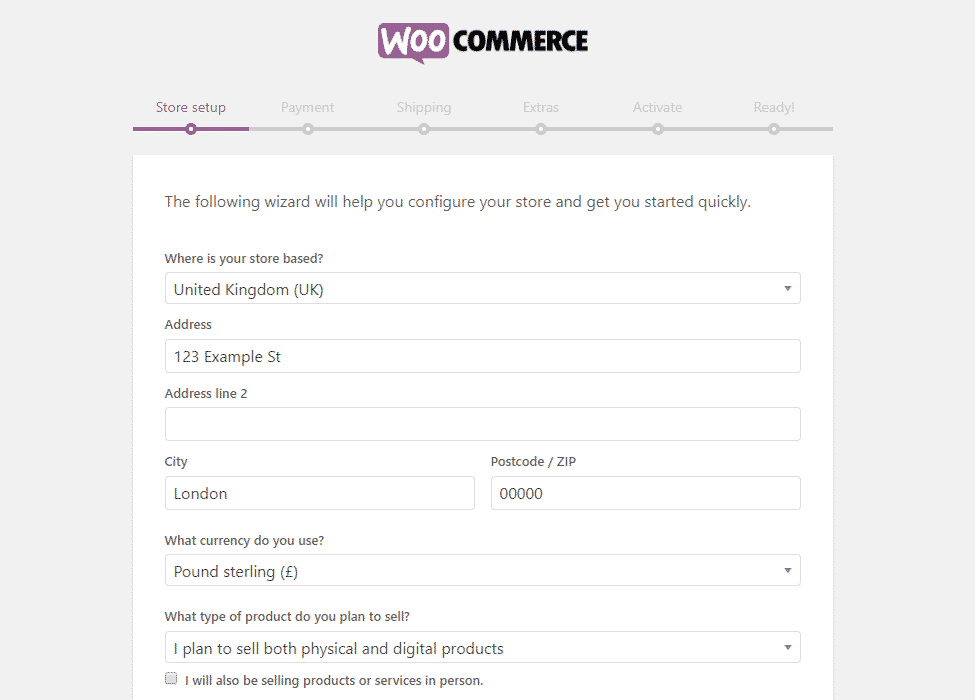 Choose A WooCommerce Theme
To control how your store looks, you'll want a WordPress theme that integrates fully with WooCommerce. While you can find plenty of free WooCommerce themes, most stores will want a premium option, of which there are thousands: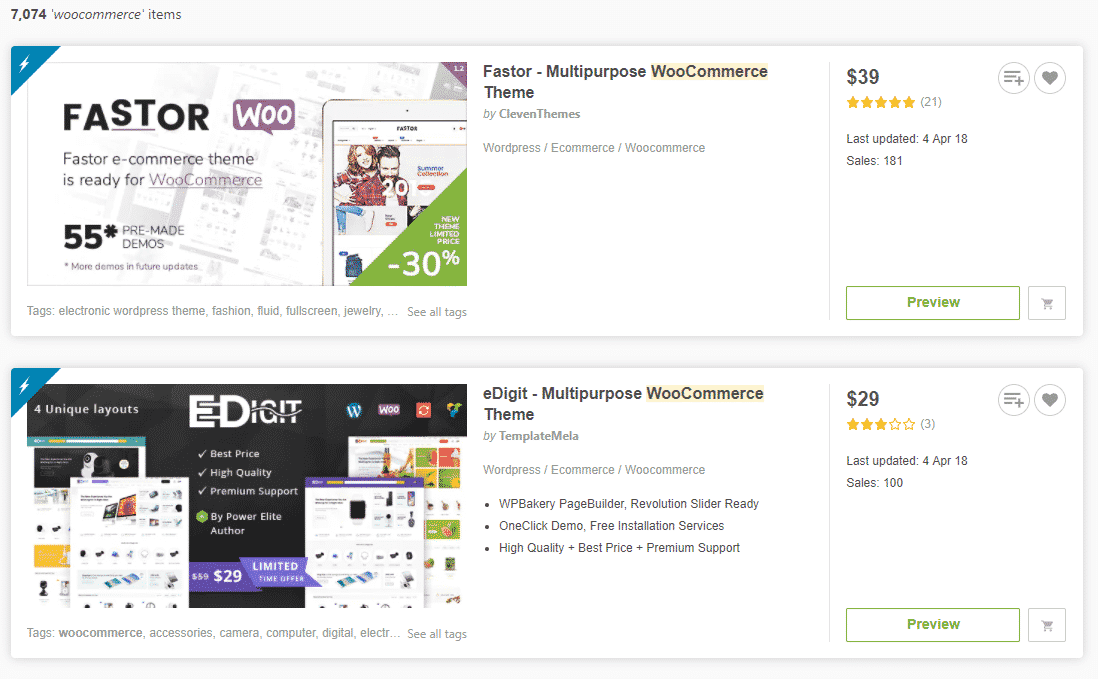 If you want to add new pages or customize how your theme looks, you can use core WordPress functions.
Choose WooCommerce Plugins
While your theme controls how your store looks, plugins help you add additional functionality to your store.
Plugins can help you do things like:
Send cart abandonment emails
Build an email list
Add live chat
Lots, lots more
While WooCommerce is functional without plugins, you'll almost certainly want to use plugins to extend your store's functionality.
Manage Your Store
To manage your store, you'll use various areas of your regular WordPress dashboard. Many of these areas look similar to other WordPress dashboard interfaces.
For example, here's what it looks like to add a new product: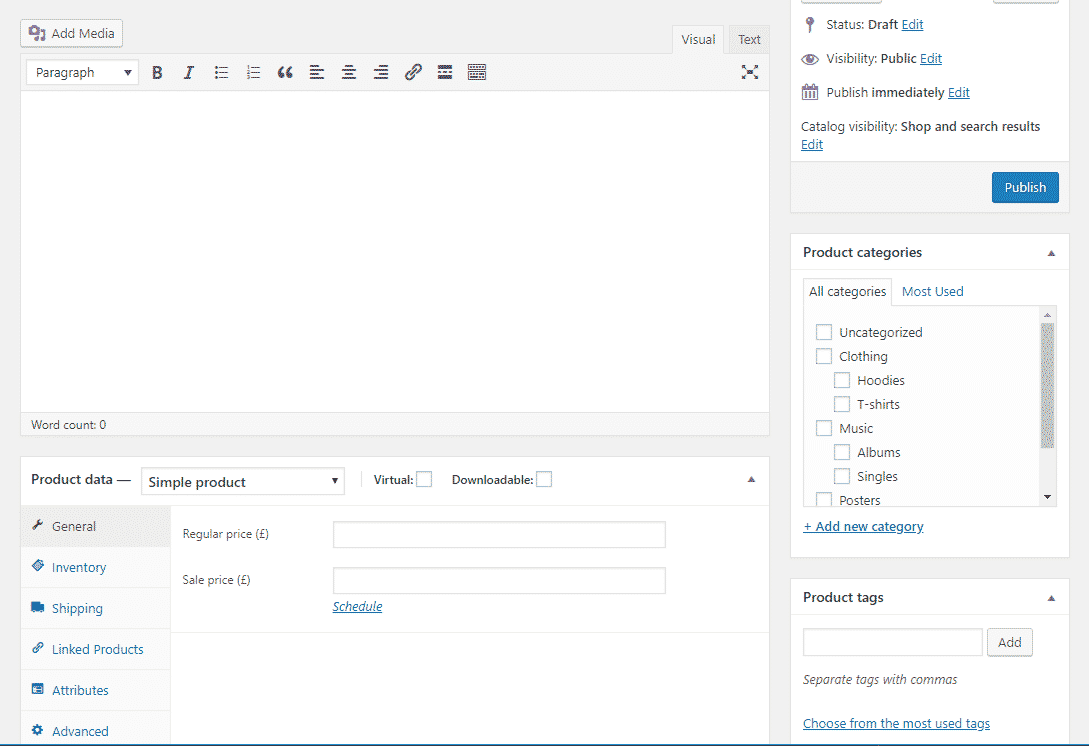 And here's what it looks like to manage orders: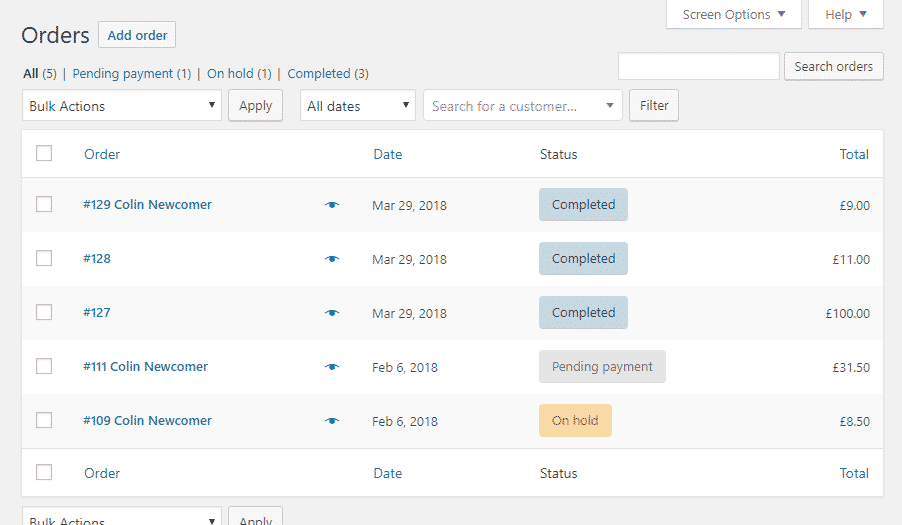 If you're already familiar with WordPress, you should feel right at home in WooCommerce's interface. But if you've never used WordPress before, then you'll probably feel more comfortable with Shopify.
Speaking of…
How You Create An eCommerce Store With Shopify
Because Shopify is a hosted solution, launching your store is as easy as signing up for a Shopify account. That is, there's no need to mess with hosting or installing software.
Once you sign up, you'll instantly have a working store that you can manage from the Shopify dashboard: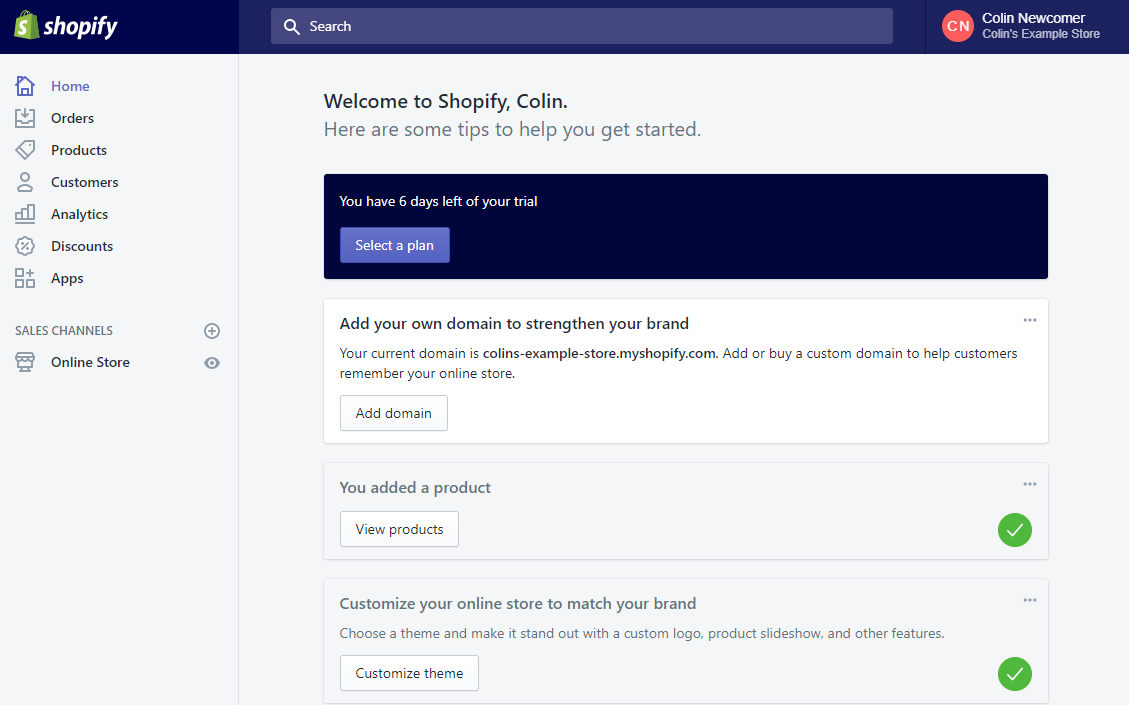 Choose And Customize A Shopify Theme
Shopify lets you browse themes from inside your dashboard. You can then customize your theme using a basic editor (this editor is not drag and drop, though it's fairly beginner friendly):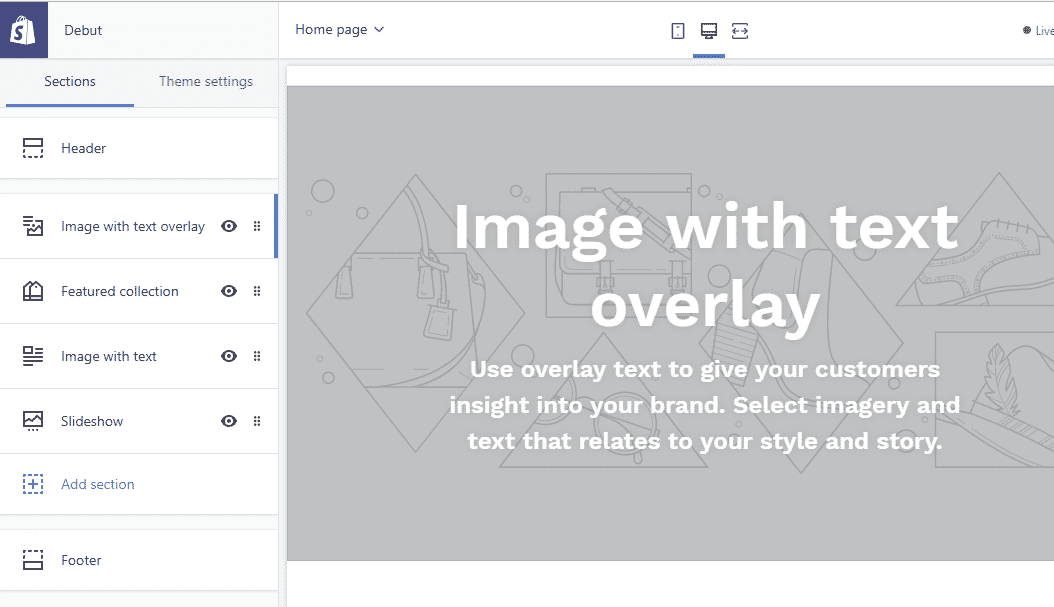 Choose Shopify Apps
If you want to add functionality to your store that goes beyond the core Shopify features, you can add Shopify Apps directly from your Shopify dashboard: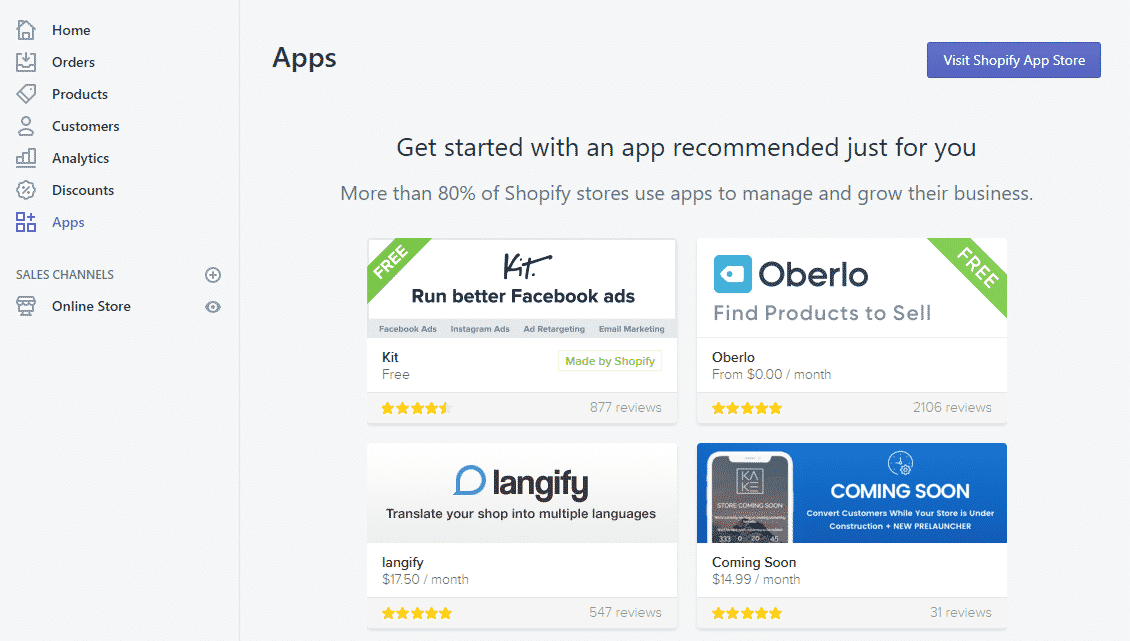 Like WordPress plugins, these come in both free and premium packages.
Manage Your Store
To manage your store, you'll use the same Shopify dashboard. Again, if you've never used WordPress, you'll probably prefer the look of these areas in Shopify.
For example, here's what it looks like to add a new product: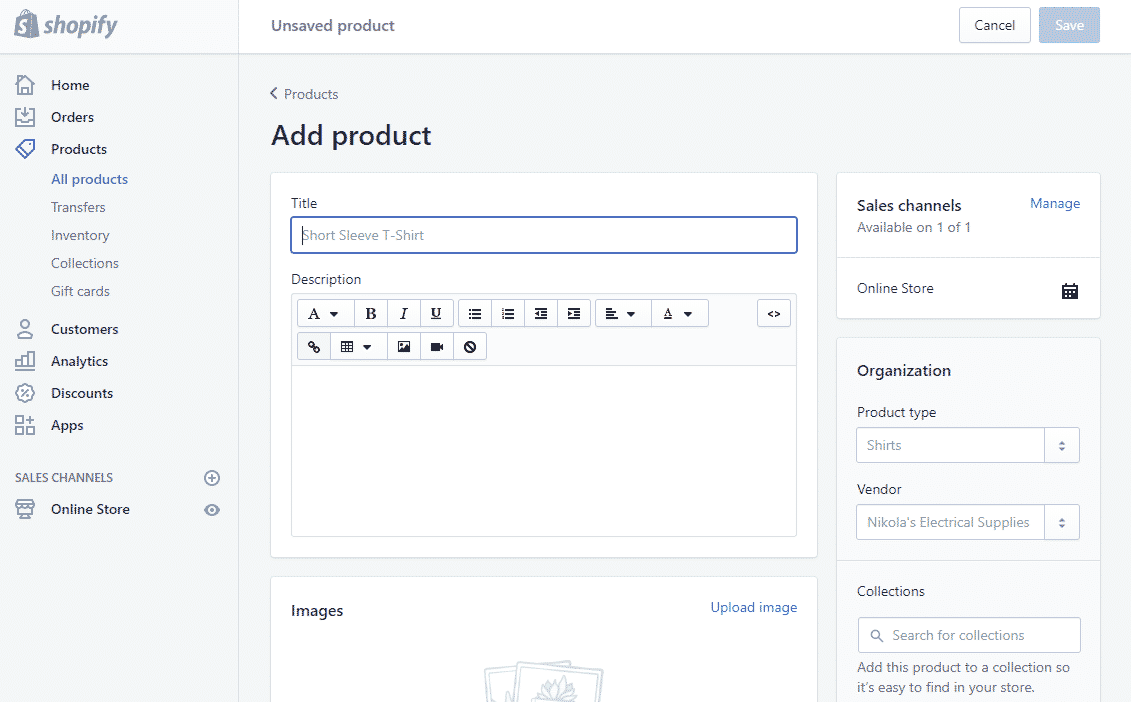 And here's what it looks like to manage orders: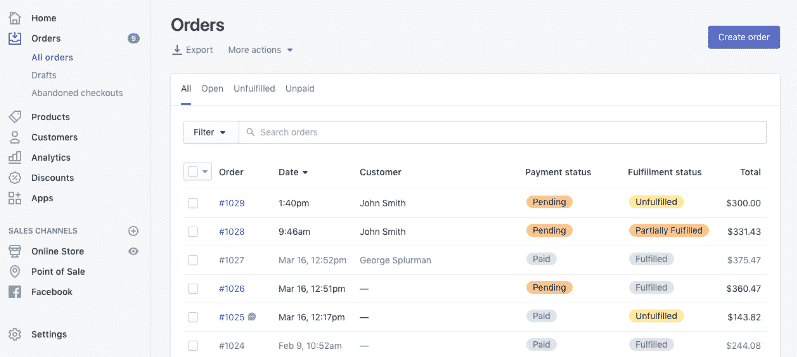 WooCommerce vs Shopify: Which Costs More?
There are a lot of variable costs involved with each platform, so it's hard to give a definitive answer either way. With that being said, WooCommerce has the potential to be the cheaper solution.
With WooCommerce, the only unavoidable fixed cost is your website's hosting. Now, most WooCommerce stores will also likely want:
A premium WooCommerce theme – usually ~$60
Various premium WooCommerce plugins (usually a one-time fee, though you'll need to renew to continue receiving updates)
So in the real world, it's unlikely that your store's hosting is your only cost. But if all you need is a barebones store, that's definitely possible.
With Shopify, the only unavoidable fixed cost is Shopify's monthly fee (which will usually work out to be a good bit more than your hosting with WooCommerce, depending on what features you need).
Like WooCommerce, though, most Shopify stores will also want:
A premium Shopify theme – usually ~$160
Various premium Shopify Apps (usually a monthly fee)
As a result, unless you need a whole heap of premium WooCommerce plugins, WooCommerce will probably come out to be cheaper for most stores.
Should You Use WooCommerce Or Shopify?
As I said at the beginning, neither platform is better in all situations. So let's run through some of the scenarios where you should pick one platform over the other:
You Should Use WooCommerce If…
You're a fan of WordPress and like using its interface, as well as gaining access to its huge ecosystem of third-party extensions.
You need some type of customization that goes beyond what Shopify allows.
You're privacy conscious and don't like the idea of your data sitting on Shopify's servers.
You're selling products that Shopify bans (some seemingly innocuous products can get caught up in Shopify's rules).
You Should Use Shopify If…
You're only selling basic products without a ton of variations (and therefore don't need WooCommerce's flexibility).
You've never built your own website before and/or this is your first eCommerce store.
You're not familiar with WordPress. If you've never used WordPress, using WooCommerce will be overwhelming because you'll need to learn both WordPress and WooCommerce.
You're willing to pay a little bit more for the convenience of never having to worry about maintenance, security, or updates.
Now over to you – when it comes down to WooCommerce vs Shopify, which eCommerce platform do you prefer?